Websites customised, established and server-managed by Multimedia Investments Ltd:
Client Sites: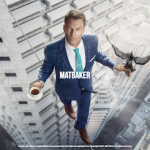 Mat Baker is an internationally acclaimed award winning photographer based in New Zealand and who works predominantly in Australia, New Zealand, South East Asia and the United States of America.
Mat's clients include A-Level brands who value his idiosyncratic stamp of artistic brilliance.
You might recognise examples of his work. Mat's work features in top magazines, billboard displays located around your city, on buses, everywhere where iconic brands display their message.
Check out his site. It's an amazing portfolio of work achieved through the 2000s until current day.
A+E Electrical Ltd was established in 2005 and pride itself on honesty & hard work.
Its coverage area spans from Bombay in the south of Auckland to "the Harbour Bridge" on the north city fringe.
Managing Director, Dean Marx guarantees a prompt and professional service from him and his team of NZ qualified registered electricians and support staff.
Click on the link to AandEElectrical.co.nz and contact Dean and his team for a first class service.
Content & Information Sites:
Asia Pacific Report, a news website that provides a fresh 'Pacific' voice to bolster Asia Pacific news and analysis in the wider Asia Pacific region.
APR editor Professor David Robie says the collaboration is a result of a gap in the media market for an independent Asia-Pacific voice that addressed issues of equity and justice.
"AsiaPacificReport.nz features in-depth current affairs news reportage focused on telling the 'untold stories'. It is a public space for 'no-froth' journalism examining real pressing issues," he says.
Other MIL server-managed Content & Information Sites:
NewzEngine.com
EveningReport.nz
AsiaPacificReport.nz
LiveNews.co.nz
ForeignAffairs.co.nz
NewsKitchen.eu
de.NewsKitchen.eu
36th-Parallel.com
TheDailyBlog.co.nz.