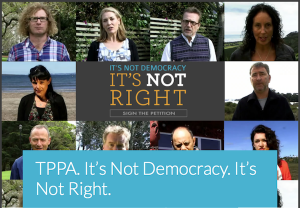 In October 2013, MIL filmed and edited the It's Not Right campaign videos, designed for television advertisement commercial release.
The It's Not Right campaign urged New Zealanders to sign an online petition at www.ItsNotRight.org.nz calling on the New Zealand Government to abandon its secrecy and release the text in the Trans Pacific Partnership Agreement negotiations.
The video series was also released online and via New Zealand radio stations.
MIL provided strategic advice, production (filming) and post-production (editing and distribution) services to organisers of the campaign, and, exported a compliment of video files, of various time-options, in both English and Maori languages.
As a consequence of the campaign the ItsNotRight.org.nz website received over 15,0000 digital signatures urging the New Zealand Government to release the TPPA chapters and text.
MIL TV-Video Post Production