Multimedia Investments Ltd
(MIL) managing director Selwyn Manning has announced a joint venture between MIL and highly regarded Germany born and based journalist and author Ingo Petz.
The initiative sees MIL establish and take 50 percent ownership in the raw news and analysis aggregator sites NewsKitchen.eu and NewsKitchen.de.
NewsKitchen.eu provides up-to-the-minute aggregation of geopolitical information relevant to the Eurozone, Russian Federation, Belarus and the Baltic states.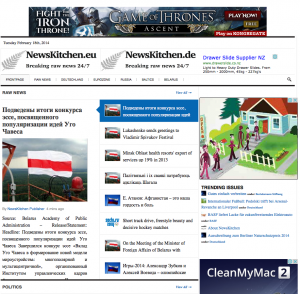 NewsKitchen.de also provides up-to-the-minute breaking news originating from prominent source entities inside Germany, including from the nation's most prominent decision-makers and news-shapers.
NK.eu and NK.de publish up to 5000 articles per month in the language of the state-of-origin and provide raw news reports focussing on governments, external powers, global bodies, including news on security, defence, intelligence, trade, economics, finance, and sport and culture.